Experience Dublin's Charm: A 48-Hour Adventure with a Stay at Stauntons on the Green
Welcome to Dublin, a city rich in history, culture, and vibrant energy. Imagine immersing yourself in the literary heritage at the Museum of Literature, exploring historic landmarks like Dublin Castle and Trinity College, and indulging in traditional Irish hospitality at cosy pubs and restaurants. To make your stay even more memorable, stay with us at Stauntons on the Green and experience the heart of Georgian Dublin.
A Quaint Haven in the Heart of Dublin:
As you step into the Stauntons on the Green, you'll be greeted by friendly staff who are dedicated to ensuring your stay is nothing short of exceptional. The hotel's warm and welcoming ambiance instantly makes you feel at home, providing a haven from the bustling city just beyond its doors.
Comfortable Accommodations:
Stauntons at the Green features a range of thoughtfully designed rooms, each offering a comfortable retreat after a day of exploration. Whether you're traveling solo, with a partner, or as a family, Stauntons on the Green has a variety of room types to suit your needs. From charming single rooms to spacious family suites, you'll find everything you need for a restful stay. The tastefully decorated rooms boast modern amenities while retaining the hotel's traditional Irish charm.
Savour the Green Views:
Nestled behind Stauntons on the Green, discover our sunlit landscaped gardens, offering ample space to relax and unwind. The garden's serene ambience is ideal for rejuvenation after a day of exploring, revel in its beauty alongside the townhouse's elegant Georgian facade with a tea or an afternoon picnic. Wander along the garden path to the private entrance of the Iveagh Gardens, inviting you to explore Dublin's enchanting natural surroundings, enhancing your stay.
Convenient Location:
Stauntons on the Green boasts an unbeatable location in the heart of Dublin. Step outside, and you'll find yourself amidst the city's vibrant energy and countless attractions. From historic landmarks like Trinity College and Dublin Castle to cultural hotspots such as the National Museum and the National Gallery, everything is within easy reach. The hotel's proximity to public transportation also makes it convenient for exploring further afield.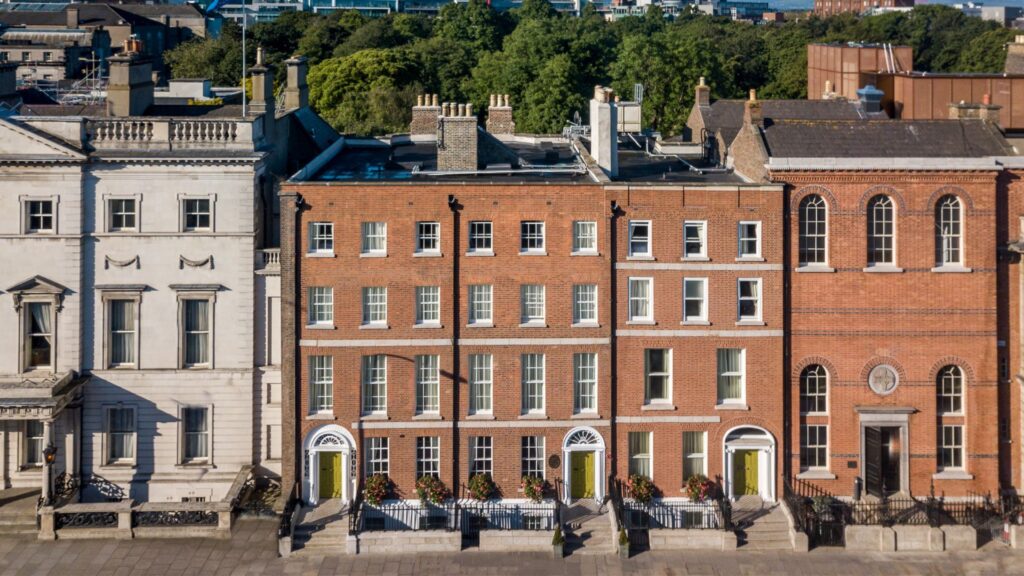 If you're planning a short stay in this captivating Irish capital, we have the perfect itinerary for you.
Itinerary for 48 hours in Dublin:
Day 1:
Start your day with a leisurely stroll through St Stephen's Green, one of Dublin's most beautiful public parks. Admire the lush greenery, charming lake, and carefully tended flowerbeds as you soak in the serene ambience. Take a moment to relax and enjoy the calmness of this urban oasis.
Next, head to the Museum of Literature (MoLI), located on the stunning grounds of UCD's Newman House. Immerse yourself in Ireland's rich literary history as you explore exhibits dedicated to renowned writers such as James Joyce, W.B. Yeats, and Oscar Wilde. Discover their works, personal belongings, and the inspirations behind their masterpieces.
Make your way to Trinity College and Old Library, a historic and cultural gem. Take a guided tour of the college, marvel at the exquisite architecture, and explore the magnificent Old Library. Here, you'll find the Book of Kells, an ancient illuminated manuscript that is an icon of Irish heritage. Lose yourself in the vast collection of books and manuscripts while surrounded by the scent of aged paper.
For a quintessential Irish experience, visit the Guinness Storehouse. Learn about the brewing process, enjoy a pint with panoramic views of the city at the Gravity Bar, and discover the fascinating history behind one of Ireland's most famous exports.
As the sun sets, venture to the Brazen Head, Dublin's oldest pub, dating back to 1198. Savour a hearty meal and enjoy live traditional Irish music in this atmospheric establishment. Enjoy the lively ambience, striking up conversations with locals and fellow travellers alike.
Day 2:
Start your second day with a visit to Dublin Castle, a historic fortress that dates back to the 13th century. Explore the State Apartments, wander through the gardens, and uncover the castle's intriguing past. Don't forget to visit the Chester Beatty Library, which houses a remarkable collection of manuscripts, rare books, and artworks from around the world.
Next, head to the Bestseller Cafe for a quick bite and cup of coffee. Along with a delicious menu, the cafe also proudly house Glass Mask Theatre on the evenings, a hidden gem that showcases innovative and thought-provoking performances. Soak in the vibrant arts scene of Dublin and witness the creativity of local talent.
A trip to Dublin is incomplete without a visit to Kilmainham Gaol, a former prison-turned-museum. Gain insight into Ireland's tumultuous past as you explore the cells and hear the stories of political prisoners who fought for independence. This poignant experience offers a glimpse into the nation's struggle for freedom.
Indulge in the culinary delights of Dublin by dining at one of its renowned restaurants. Taste Cafe offers a contemporary Irish menu with a focus on local ingredients, while Darwins provides a unique fusion of flavors. For lovers of Indian cuisine, Jewel in the Crown is a must-visit, and seafood enthusiasts will delight in the offerings at Matt the Thresher. End your evening with a nightcap at P. Macs or Against the Grain, both known for their wide selection of craft beers.
Additional Recommendations:
To cover more ground and explore the city at your own pace, consider taking a Walking or Cycling Tour. There are a number of Day Tours available from Dublin City Centre, some of them even provide services to explore the splendid beauty of County Wicklow. You can even rent a Bike to go sightseeing with more freedom.
Find out more about Things to Do in Dublin.
A Home Away from Home:
Stauntons on the Green offers a delightful and memorable experience for travellers seeking comfort, convenience, and a touch of Irish charm. From its prime location overlooking St Stephen's Green to its cosy accommodations and personalized service, this boutique hotel is the perfect base for exploring the vibrant city of Dublin. Immerse yourself in the warm Irish hospitality and create lasting memories during your stay at Stauntons on the Green. Book your stay here today!